The Honorable James M. Benham (College Station, Texas)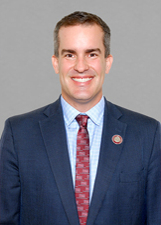 Regent James M. Benham was appointed to the Texas Southern University (TSU) Board of Regents by Texas Governor Greg Abbott in October of 2020. He is currently the Secretary of the Texas Southern University Board of Regents.
Regent Benham is the CEO of JBKnowledge, a 230-employee global software company. Additionally, he served for the last five years as an Adjunct Professor of Construction Science at Texas A&M University, and previously served two terms as a City Council Member for the City of College Station. He is a member of the Entrepreneurs Organization and the Construction Financial Management Association.
Additionally, Regent Benham is an alumni mentor for the Texas Aggie Corps of Cadets Company C-2, a volunteer for Texas Boys State, a group leader for YMCA Y Guides and Princesses, and a former board member of the Texas Aggie Corps of Cadets Association Board of Directors.
Regent Benham received a Bachelor of Business Administration in Accounting and a Master of Science in Management Information Systems from Texas A&M University.
Term: October 12, 2020 – February 1, 2023