Monterey Jazz @ TSU: October 24-26, 2019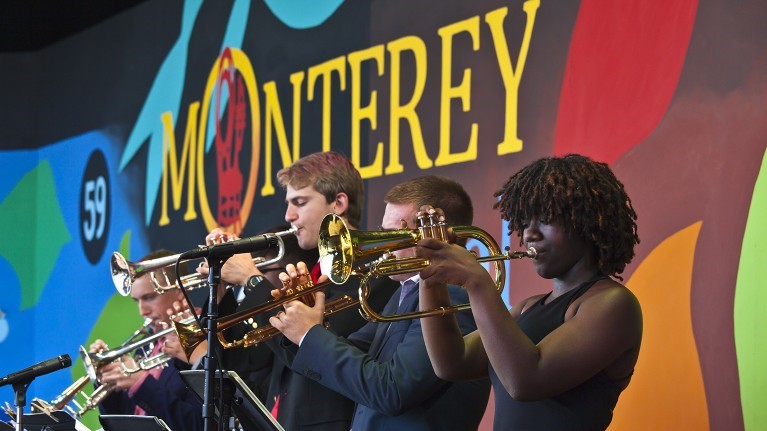 About the Festival
Texas Southern University has partnered with the world renown Monterey Jazz Festival to bring a FREE Music Symposium on Thursday, October 24th featuring Monterey Jazz Festival Artist-in-Residence, Derrick Hodge. All Houston-based high schools, middle schools and community are invited to participate in this special event. 
Network with Professionals and Peers
Learn Insider Secrets in the Music Industry
Pick the brains of TSU faculty and industry professionals
Jam with your colleagues and spark life-long collaborations
Build the foundations of a career in the music industry
Audition for premier jazz performing and touring opportunities
Artist-in-Residence Derrick Hodge
Students will have the opportunity to work with two-time Grammy Award winning bassist and Blue Note Records recording artist Derrick Hodge. Derrick has performed, written and/or recorded with such artists as Common, Robert Glasper, Kanye West, Quincy Jones, and Herbie Hancock. For more information on Derrick, check out derrickhodge.com. We are extremely excited that he will be sharing his expertise with the Houston and TSU community.
Schedule of Events
Monterey Jazz @TSU Schedule

Thursday, October 24 – Artist Tools

Morning (9:00 am – 11:00) Granville M. Sawyer Auditorium
Masterclasses on Performance Tools
Derrick Hodge, TSU Faculty, Area Professionals
Topics:


Effective Practicing Techniques
Break-Out instrument specific masterclasses
Mastering your Craft
Effective Rehearsal Techniques
Writing a successful composition

11:00 - Lunch
Afternoon (1:00 pm  - 2:00 pm) Music Industry Secrets
Panel Discussion on Music Industry Secrets Featuring: 
Derrick Hodge, TSU Faculty, Area Professionals
Topics:


Establishing a Revenue Stream
Branding & Marketing
Engaging Fans & Social Media
Streaming Your Music
Record Labels vs. Independent
Recording

Friday, October 25 – Open Recording Session

LIVE Recording Session with Monterey Jazz at KTSU 

Reserve your spot at:  
https://docs.google.com/forms/d/1aBJ-2dYWy4Geb-GA_DthJyviPpVLX8TvxGC4DC1a2do/edit