TSU Alumna to Deliver Commencement Address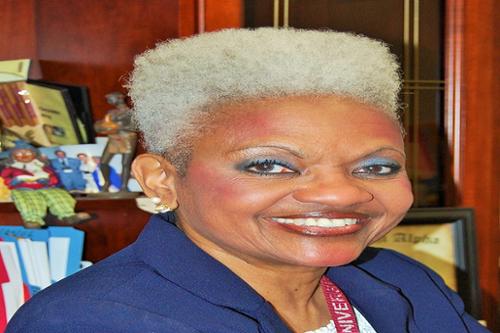 Dr. Cherry Ross Gooden, an educator and Texas Southern University (TSU) alumnus, will address graduates at TSU's Winter Commencement on Saturday, December 14, 2019, in the Health & Physical Education Arena. "Being back home at the university that shaped and molded me into the educator I am today is such a fantastic opportunity," said Gooden, "I cannot wait to encourage the graduating class as they close this chapter and begin anew."
Dr. Gooden, a dedicated, committed teacher with more than 48 years of teaching experience at both the elementary and university levels, retired from Texas Southern University in 2013 after 36 years of service. Before joining the TSU College of Education faculty in 1976, she was an elementary teacher in the Houston Independent School District for 12 years.
In addition to her role as a faculty member at TSU, Dr. Gooden has also been a consultant for various school districts in the state of Texas as well as in the nation. Her passion for teaching and learning has been shared with many elementary, middle, and high school students as she is a sought-after motivational speaker who inspires young people to fulfill their God-given purpose. It is this dedication to teaching and learning that resulted in Dr. Gooden being the recipient of prestigious awards.
She was recognized as a "Hero in Education" by the Xi Alpha Omega Chapter of Alpha Kappa Alpha Sorority, Inc. and the Ivy League Educational and Charities Foundation. She was also the recipient of the W.E.B. Dubois Higher Education Award presented to her at the 41st Annual Conference of the National Alliance of Black School Educators held in Detroit, Michigan, in 2013. Most recently she was recognized by the TSU College of Education as an Outstanding Educator and inducted into the College of Education Hall of Fame.
Dr. Gooden is a member of many professional organizations including the National Association for Multicultural Education (where she is a founding member, a past national president and a current member of the NAME Board of Directors), the Texas Association of Black Personnel in Higher Education, where she is a past state president, and the National Alliance of Black School Educators, where she also served on the National Board of Directors.
Ross graduated from Texas Southern University's College of Education with a Bachelor of Science in Elementary Education and a master's degree in Elementary Education. The TSU Commencement Committee is continuing the tradition of having a TSU alumnus as the annual Winter Commencement speaker. For more information about TSU's Commencement, visit http://commencement.tsu.edu/