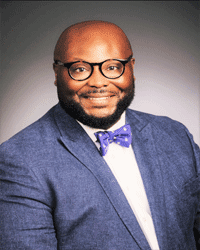 On behalf of the entire Student Services department, I welcome you to our TSU family. We are so glad you've decided to positively shape your future by joining us during this pivotal time in your life. We are here to help you navigate the University services and programs available which are designed to provide a quality education & maximize the many benefits of your entire TSU experience.
Never forget we are here for you! Don't hesitate to approach any of the TSU leaders and staff. Your new family sincerely wants to join you in celebrating your victories, address your concerns, and even support you in the best ways possible if you have struggles.
As part of your TSU family you'll find that I enjoy getting to know students and encouraging them through the ins and outs, ups and downs of TSU life. The endearing relationships formed make most students comfortable calling me Mama B, Aunt B, Ms. B or Dean B. Though the "B" stand for my last name, "Bennett", when you think about the "B" let it remind you that I and your TSU family will go "Beyond" expectations throughout your University experience.
At TSU you "Belong" to a family who "Believes" in your potential for greatness and will support you in getting the "Best" education possible. I personally look forward to meeting you
Birtenna E. Bennett, M.B.A
Assistant Vice President of Student Services