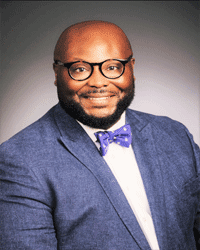 Welcome to Texas Southern University. It is an honor to serve our students, faculty, staff, alumni, and community members.
Life on a college campus is about formative experiences guided by positive interactions, support resources, inclusive spaces, and traditions. Student Services is committed to building healthy relationships through unparalleled customer service at our Student Life Center, dining facilities, bookstore, and Post Office. Additionally, through programming, student leadership opportunities, and student organizations. We assist students in achieving their personal and academic goals.
Never forget that you belong here and are part of legacy-building at TSU. Our office doors, a listening ear, wisdom, and experiences are open to you.
Go Tigers! 
Dr. Marquis T. Gatewood
Assistant Vice President of Student Services