Tiger Dance Program
Purpose
While the cheer team is oriented toward traditional cheer activities, the Sensations show spirit combined with modern hip-hop dance skills. On the court and sidelines at every men's and women's home basketball games and various special events, the Sensations bring fun, spunk, and energy. Their purpose is to support athletic teams and campus organizations at Texas Southern University. They also attend community events and partake in activities designed to help themselves develop as a student, dancer, and an overall good citizen on campus and in the community.
Dance Program Goals
To execute sidelines and dance routines to promote spirit at the TSU athletic games/events
To keep the crowd's attention on the court or stage where the intercollegiate activities are taking place, for entertainment
To raise the level of fan support for the teams and university
To serve as ambassadors of intercollegiate athletics and the university
To demonstrate academic success through study hall and life skills
In all matters and policies concerning the university, it is required for each individual dance member to execute good citizenship and sportsmanship and to conduct themselves in a proper manner while representing TSU
Academic Requirements
Maintain a minimum 2.0 GPA
Must be enrolled full-time at TXSU (12 credits per semester)
All dancers must attend 8 study hall hours per week
Incoming freshmen must be enrolled and admitted into TSU
General Requirements:
We are looking for responsible and dependable athletes, who are willing to work hard, be coached, and maintain a positive attitude.
Admission Letter of Acceptance – Incoming Students
2.5 GPA or higher – Returning Students
Tryout Application
Onsite Interview w/ Current Coach and Advisor
Program Benefits
Each member meeting eligibility will qualify for the following benefits:
Quality Education
Travel Expenses Paid
Uniforms, Camp & Practice Attire, and Equipment Provided
Academic Tutoring Services Provided
Contracted Athletic Trainer
Supportive Alumni
Collegiate National Competition Opportunities
Texas Southern University & SWAC Conference experiences and traditions
Academic Leadership Scholarship ($1,000 split into two equal payments, waives out of state tuition)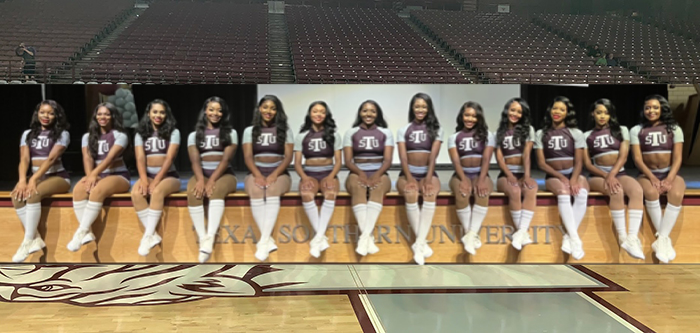 Congratulations to the 2022-2023 Tiger Sensations Dance Team: 
Team Captain - Mikaela Richardson
Co-Captains - Melanie Mays and Jada Prescott

Mya Andrews | Kiara Baldridge | Daniah Cervantes-Thurmond | Kristinee Davis | Jadaya Favorite | Dayshon Ford | Michelle Hamilton | Schi Phillips | Victoria Hayes | Nia Horne | Sinaria Jones | Dilyn Penn |
Alternates: Da Neeicia Walton and Brooklyn Jackson
Connect With Tiger Sensations
Head Dance Coach - Gretchen Jean