The Honorable Albert H. Myres, Sr. (Liberty, Texas)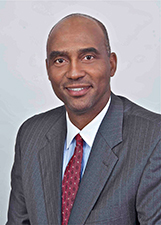 Regent Albert H. Myres, Sr. was appointed to the Texas Southern University (TSU) Board of Regents by The Honorable Greg Abbott, Governor of Texas in April of 2019. He is currently the Chairman of the Texas Southern University Board of Regents. Regent Myres is owner and operator of A&A Land and Cattle Company LLC which operates cattle ranches in Liberty and Chambers County Texas. 
Regent Myres served as President and Chief Executive Officer for Octcet, Inc., a developing oxygenated fuel enhancement company focusing on the bulk diesel industry. Formed in 2012 with an investment group from the United States, South Africa, and Germany, Octcet's core function was to develop and market a unique range of oxygenated additives for diesel fuel designed to address the need to reduce emissions and improve fuel and operational efficiency. In his role, Regent Myres oversaw all business vision, mission, strategy, and operations. In his former role with the company as Chief Business Development Officer, he led the teams of business development, regulatory affairs, compliance, and international relations. Under his leadership and direction, Octcet, Inc. expanded into the diesel additive industry with operations in Mexico, South Africa, and Honduras.
Throughout his professional career, Regent Myres has had hands-on experience engaging in business relations, government affairs, regulatory affairs, public affairs, and international relations.  He has directed these functions with Fortune 250 corporations throughout his professional career. During this time, he has advised CEOs, developed a network of key relations with federal, state, and local decision-makers, and a network of relations within Non-Governmental Organizations (NGO's) and national non-profits engaging in energy policy, public policy and environmental stewardship.
He formed A Myres and Associates LLC. in 2011, a consulting firm specializing in government and regulatory affairs, public policy, resolution management, and international relations relating to the oil and gas industry.
Regent Myres also served as the Senior Vice President of Government and Public Affairs for RRI Energy, Inc., reporting directly to the Chief Executive Officer. He directed the federal and state government affairs functions, regulatory affairs, communications, and the RRI Foundation. He established the Washington DC office and was the company's "voice" in Washington DC. In addition, he was responsible for structuring and implementing policy strategies, regulatory strategies, and compliance to produce sound outcomes to enhance and maintain competitive commercial wholesale markets. During his tenure with Reliant Energy, Regent Myres was the Senior Vice President of External Affairs directing federal, state, local government affairs, regulatory affairs, communications, and the Reliant Energy Foundation, reporting to the Chief Executive Officer. His primary responsibilities were to lead the company's efforts in implementing corporate strategies, compliance, and advocating policy positions to cultivate, enhance and maintain competitive commercial, industrial, wholesale, and residential markets across the United States.
Before joining Reliant Energy, Regent Myres served as Senior Advisor and Chief of Staff to the President and Country Chairman of Shell Oil Corporation. Before joining the President's office, he was senior advisor to the Washington, DC government affairs office. His duties included representing the chemical, hydrogen, solar, LNG, and wind interests of the company. He served as the senior advisor of Shell Nigeria in Washington, DC on U.S./Nigeria relations and also served as Vice President of the Shell Oil Company Foundation, one of the nation's largest corporate foundations during his tenure. Prior to joining Shell, Regent Myres served as a Regional Director for the United States, under Senator Kay Bailey Hutchison, managing her state office.
Regent Myres actively participates on several boards. He currently serves on the Board of Trustees of the University of Tulsa and the Executive Advisory Board of the Collins College of Business. Regent Myres was honored as a distinguished alumnus of The University of Tulsa in 2020. He is also the Board Chairman of the 100 Ranchers.
Following the devastation of Hurricane Ike, Houston's Mayor Bill White appointed Regent Myres as Chairman of the Gulf Coast Ike Relief Fund, modeled after the successful Katrina/Rita Fund, which he also led. The fund was dedicated to helping fulfill unmet needs for families in Harris and Galveston counties and other affected areas. Regent Myres also created and implemented the Katrina/Rita Education Initiative, a $5 million project to provide immediate intervention for displaced children who fell behind their peers in reading and math skills. Between both the Katrina/Rita Fund and the Gulf Coast Ike Relief Fund, Regent Myres in conjunction with board members of the Barbara Bush Foundation was responsible for raising $23 million in private donations for those in need in Houston area during this period.
Regent Myres has also served on numerous community boards, including the Nature Conservancy as Vice Chairman of the Greater Houston YMCA and the Public Policy Board of the University of Houston Center for Public Policy.
He is an active advocate of minority ranchers and landowners in the agriculture industry.
He earned a Bachelor of Science in Finance from the University of Tulsa. He lives in Liberty, Texas with his wife, Angela, and three sons.
Term: April 2, 2019 – February 1, 2025