The Honorable  Keonne McClain (Houston, Texas)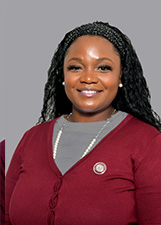 Student Regent Keonne McClain was appointed to the Texas Southern University (TSU) Board of Regents by Texas Governor Greg Abbott with her term set to expire on May 31, 2023
Regent McClain, a native of Houston, Texas, is a life-long educator and believer in the transformative power of education. She has worked as an elementary school teacher in the Pasadena Independent School District for more than ten years. Throughout her career in the district, Regent McClain has supported her peers in many ways. She has served as grade level chair and on several committees. Additionally, Regent McClain has spoken at national conferences. However, she is most recognized for her ability to build relationships and make connections with her students.
As a champion for literacy, she believes that reading is critical to the long-term success of students and their families. Regent McClain advocates for early literacy development, reading instruction that is evidence-based, and rooted in explicit lessons built around phonics. Her advocacy and passion for literacy emerged at an early age, as she grew up frequently assisting family members who had reading disabilities.
Her educational journey is a testament to her value of education. She is a product of Houston's public schools and later as a first-generation college student, matriculated to the University of Houston-Clear Lake where she earned a Bachelor of Science degree and a Master of Science degree in Educational Management. Additionally, Regent McClain has attained the Texas Principal Certification, Teacher Evaluation and Support System Certification, Special Education (EC-12) Certification, and EC-6 Generalist Certification. In 2019, Regent McClain began her doctoral studies in Educational Administration at Texas Southern University (TSU).
Regent McClain has been married for more than fourteen years; and is the mother of two sons and one daughter. She is also a published author of a children's book.
Regent McClain's aim is to not only be a role model for her children and students, but she is eager to provide a voice for the needs and interests of TSU students. As the Texas Southern University Student Regent, she is committed to identifying ways to continually improve the educational experience of the TSU student body.
Term: June 1, 2022 - May 31, 2023