The Honorable Marc. C. Carter (Houston, Texas)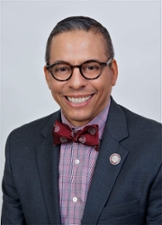 Regent  Marc C. Carter was appointed to the Texas Southern University (TSU) Board of Regents by Texas Governor Greg Abbott in April of 2019. He is currently the Vice Chair of the Texas Southern University Board of Regents.
He is a trial lawyer at Schaffer Carter & Associates in Houston Texas.  His practice focuses on all matters related to criminal defense, complex civil litigation and Veteran's health and justice.
Regent Carter was appointment to the bench by Governor Rick Perry in 2003. He presided over the 228th Criminal District Court in Harris County Texas from December 2003 to January 2019.  He resolved thousands of cases through trials, hearings and pleas.  Prior to his appointment to the bench, Judge Carter was a law clerk for the Honorable Judge Kenneth M. Hoyt, United States District Court for the Southern District of Texas. After serving as a law clerk he became a trial lawyer at the Harris County District Attorney's Office. In 1996 he left the District Attorney's Office to form his own law practice focusing on criminal defense. While a defense lawyer, he represented clients in trial and on appeal in State and Federal Courts. He has handled complex litigation at all levels to include capital murder cases.
Regent Carter received his undergraduate degree from The University of Texas at Austin and his law degree from Thurgood Marshall School of Law, Texas Southern University. In 1981 he was commissioned in the United States Army as a lieutenant in the Army Intelligence Corps. He achieved the rank of captain while serving in Germany supervising 250 soldiers that collected theater level intelligence in support of combat units in Western Europe.
As a judge, Regent Carter's signature achievement was the creation of the first Veterans Treatment Court program in Texas. This innovation in Texas criminal justice received national recognition and was featured on CBS "60 Minutes" and PBS "Need to Know."  His treatment court and compassionate approach to criminal justice reform was the subject of numerous news and magazine articles throughout the country. 
Regent Carter has received several national, state and local awards for his work in criminal justice reform.  These awards include; The prestigious "William Rehnquist Award 2016" for judicial excellence presented to him by Chief Justice John Roberts of the United States Supreme Court and The National Center for State Courts;  The "Ima Hogg Award 2016"  presented by Mental Health America for his work with persons affected by mental illness; The "Praxis Award" presented by Villanova University 2013 for professional ethics; The "Johnny Klevenhagen Award 2014" presented by Crime Stoppers Houston for innovation and criminal justice;  The State Bar of Texas "Pro Bono Award 2016" which recognized his commitment to legal services for the poor;  The State Bar of Texas African American Lawyers Section "Distinguished Jurist Award" 2017;  and The NAACP "Jesse Brown Distinguished Leadership Award" for criminal justice reform in 2018. 
Regent Carter and his wife, Roswitha have been married for over 30 years. They have two daughters and are expecting their first grandchild in August 2019.
Term: April 2, 2019 - February 1, 2023