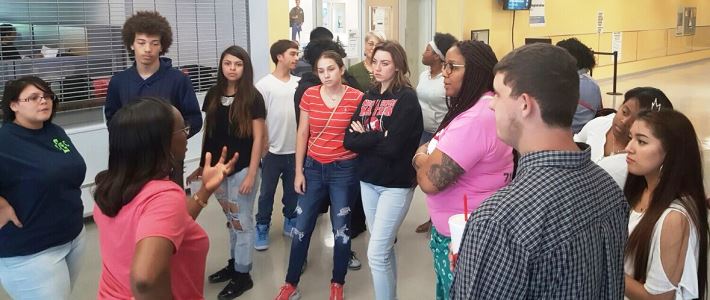 The TRIO Educational Opportunity Center Ceasing Program Operation

It is with a heavy heart that we are announcing that the Texas Southern University Educational Opportunity Center Program will cease operation on August 31, 2022, after over twenty-eight (28) years in operation. We would like to send our heartfelt thanks to everyone for allowing us to assist you with working towards your career goals. If you still need assistance with any of the following services that we offer, please feel free to reach out to us at 713-313-7113 or by email at trioeoc@tsu.edu. All our services are free.
Services Offered:
Referrals to GED and other adult basic education classes
Assistance with completing the college, university, trade/vocational school admissions process
Assistance with completing FAFSA and other financial aid applications
Assistance with locating/choosing a post-secondary program for your chosen career
Career exploration and goal setting
Financial Literacy Information (budgeting, handling loans, etc.)
Entrance examination information (ACT, SAT, etc.)
Personal counseling (Life coaching)
Scholarship information
Referrals to public assistance and other services so that you can pursue a career
Follow-up support after you are enrolled in a post-secondary educational program
Onsite unlimited use of the computer lab
Here's to wishing you the best in all your future endeavors!
The Texas Southern University Educational Opportunity Center Team
About Us
The TRIO Educational Opportunity Center (EOC) is a federally funded program sponsored by the U.S. Department of Education. The purpose of the EOC program is to assist the educational needs of adults (19 years or older) as well as those that are eighteen (18) years or younger that are not being served by a Talent Search program. We support individuals wishing to enroll in postsecondary educational opportunities (i.e., college, university, vocational, and technical programs) by providing admissions assistance, information about financial aid (FAFSA, locating scholarships, loans, etc.),  financial literacy, and more. Although we are housed at Texas Southern University (TSU) we do NOT recruit for any school/university and will gladly assist you in pursuing educational opportunities in and outside of the Houston area.
---
Available Services
ALL of our services are FREE to individuals currently living in the Texas counties covered by our program (Austin, Brazoria, Chambers, Colorado, Fort Bend, Galveston, Harris, Liberty, Matagorda, Montgomery, Walker, Waller, Wharton) and those meet eligibility requirements. We are available to remotely provide many of our requested services as well in order to accommodate you. 
The Educational Opportunity Center offers:
Referrals to GED and other adult basic education classes including a limited number of GED testing vouchers
Assistance with completing the college, university, trade/vocational school admissions process
Assistance with completing FAFSA and other financial aid applications
Assistance with locating/choosing a postsecondary program for your chosen career
Career exploration and goal setting
Financial Literacy Information (budgeting, handling loans, etc.)
Entrance examination information (ACT, SAT, etc.)
Testing workshops
Personal counseling (Life coaching)
Scholarship information
Referrals to public assistance and other services so that you can pursue a career
Limited fee payment assistance for required entrance tests
Follow-up support after you are enrolled in a postsecondary educational program
Onsite unlimited use computer lab
More information about the EOC program