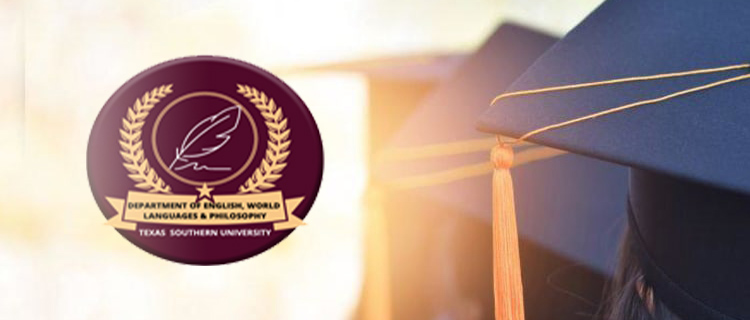 Graduate Degree General Information
The mission of the Master of Arts in English at Texas Southern University is to prepare students for further graduate study, for a career in English education, and/or for other professional endeavors by providing specialized instruction in literary studies, including critical theory, linguistics and research methodology. The degree plan requires students to successfully complete all the core courses and 21 semester hours of coursework.
The objectives of the program are as follows:
To provide a historical survey of literature with a reading concentration in British, American, or African American literary works.
To analyze a variety of texts, applying s diverse and divergent critical approaches.
To introduce techniques of independent graduate-level research, emphasizing bibliographical studies and intertextual criticism; and
To research and analyze complex texts and themes, composing both oral presentations and written responses at a level suitable for professional conferences and/or for publication in a refereed literary journal.
Admission Criteria
Applicants to the program must meet admission requirements of both the Graduate School and the English Department of TSU. GRE is not required. The requirements for admission to the graduate English program are as follows:
A cumulative grade-point average of 2.75 in general undergraduate studies and 3.0 in English studies
Students with fewer than 21 undergraduate hours in English must enroll in specified undergraduate courses to remove noted deficiencies. Having remedied noted deficiencies, the student may reapply for admission to the program.
Degree Requirements
Below are the primary criteria for earning the MA in English:
Students must complete a total of 30 semester credit hours.
Students must maintain a 3.0 cumulative average with no more than 6 hours of courses with grades lower than B-; grades of C- or below cannot be used to satisfy degree requirements.
Students must successfully complete 30 credit hours of coursework and pass a comprehensive examination before completing the thesis.
Graduate Course Details