Monterey Jazz @ TSU: April 12-13, 2022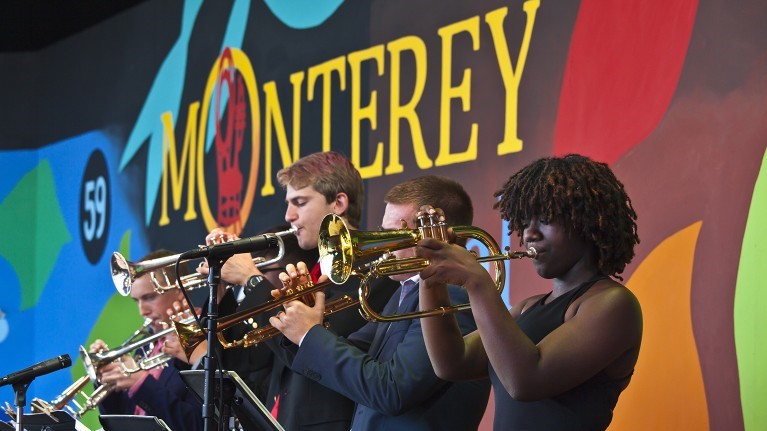 About the Festival
Texas Southern University has partnered with the world-renowned Monterey Jazz Festival to bring a FREE Music Symposium on Tuesday, April 12, and Wednesday, April 13, 2022, featuring Monterey Jazz Festival Artist-in-Residence, Queen Cora. All Greater Houston-area high schools, middle schools, and the community are invited to participate in this special event. 
Network with Professionals and Peers
Learn Insider Secrets in the Music Industry
Pick the brains of TSU faculty and industry professionals
Jam with your colleagues and spark life-long collaborations
Build the foundations of a career in the music industry
Audition for premier jazz performing and touring opportunities
Artist-in-Residence Queen Cora
Queen Cora Dunham is a Houston native having attended Kashmere High School under senior William Portis where she played in the marching and concert bands. After graduating as valedictorian, Cora pursued her Bachelor of Science Degree at Howard University where she marched in Howard's Thunder Machine marching drum section.
Cora went on to perform around the world with artists such as Prince, Beyonce, Yusef Lateef, Mary J. Blige, Lala Hathaway, Maceo Parker, Ledisi and countless others. In addition to being a full-time musician she has also authored books like GAGU Gathering a Greater Understanding, The Ultimate Life Guide for Youth and Who Am I? For Preteens & Teens.
She is also founder and CEO of The VIVO Club, Inc., a U.S.-based company that is a media & music conglomerate, and founder and CEO of Building Simple, Inc., a U.S.-based cutting-edge construction company that repurposes solid-steel shipping containers for residential, commercial, and recreational use. Cora is a powerhouse of creativity and entrepreneurship and we are thrilled to host her and help spread her message to young minds.
Schedule of Events
Date
Details
Tuesday, April 12 - Artist Tools - Master's Secrets
MIDDLE & HIGH SCHOOL DAY

Morning (9-11 a.m.)
Performance Tools:  
Presenter: Queen Cora 

Topics: 


Mastering your craft
Developing your artistry
Communicating your vision
Cultivating professionalism

11:30 a.m. - Lunch

Afternoon (12:30-2 p.m.) Master's Secrets: Panel Discussion on Music Mastery Queen Cora, TSU Faculty, Area Professionals

Topics:

Pursuing your dream
Breaking into the industry
The role of a college education
Developing a network

REGISTER HERE: https://forms.gle/7mvoMJ9n1DFNGQAi8 

Wednesday, April 13 – Career Tools - Industry Secrets

COLLEGE PROFESSIONAL DAY Morning (9-11 a.m.)
Career Tools: Presenter: Queen Cora

Topics:

Finding your voice 
Developing your story 
Investing in yourself 
Making yourself stand out

11:30 a.m. - Lunch

Afternoon (12:30-2 p.m.) Music Industry Secrets: Panel Discussion on Music Industry: Queen Cora, TSU Faculty, Area Professionals

Topics:

Music entrepreneurship
Establishing a revenue stream
Branding & marketing
Engaging fans & social media

REGISTER HERE: https://forms.gle/7mvoMJ9n1DFNGQAi8