University Museum
The University Museum at Texas Southern University was founded in the year 2000. Its mission is to exhibit both past and present art and artifacts, the vast collections of Texas Southern University and to provide programming and events to support the arts in the City of Houston and surrounding areas. The museum has hosted a variety of programming that serves this community and the world. The University Museum has established itself as an authority on art from the African American legacies such as Dr. John Biggers and others of the vast African Diaspora.
Collections
There are several art collections supported by the University Museum at Texas Southern University. One important collection is the Traditional African Art Gallery.
The Traditional African Art Gallery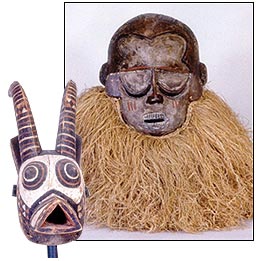 Dr. John Biggers, world-renowned artist, established the Art Department at Texas Southern University in 1949. One of his major goals for the University was to develop a collection of traditional Africa Art. Such a collection would enable the students at Texas Southern to develop a "perceptual growth" and cultural sensitivity to African art. In the early 1970s, S.W. Mothershed, director of the University Library, used funds from the budget allocated for art books and library auxiliary funds to buy a few pieces of African Art. Mr. Mothershed also spearheaded the building of the Central Library African Art Gallery that presently houses the African Art Collection. When the collection was established during the 1970s fewer than one dozen collections of traditional African art were located at historically Black colleges and universities. The Collection contains 247 pieces of art from West African, Central Africa, and East Africa.
Visit the University Museum
The University Museum is located in the south wing of the Fairchild Building, the oldest building on campus and filled with historic significance. Parking is available in Lot L at Blodgett and Ennis using the Blodgett visitor's entrance. Validated parking is available for all visitors to the museum.
Location: Fairchild Building 1st Floor, 3100 Cleburne Avenue, Houston, TX 77004
Main Number: 713-313-7145
Dr. Alvia Wardlaw, Director: 713-313-7127
Crystal Davis-Robinson, Secretary: 713-313-7120
Membership/Giving: 713-313-7145