Professional Program in Environmental Health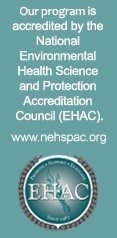 Program Mission
The Environmental Health Program provides graduates with the technical and administrative skills to function in the industry, governmental agencies, consulting firms, and academia. Graduates are qualified to enter the workforce in air and water quality control, solid and hazardous waste management, occupational health and industrial hygiene, environmental toxicology and risk assessment, epidemiology, and disease surveillance.
Admission Requirement
Admission Requirement
Application
Accepted: February 15 to August 1
Application Fee
$0.00
Two (2) Letters of Recommendation
Suggested from two of the following:


Faculty
Employment Supervisor
Supervisor of Volunteer Activities

GPA
2.5 on a 4.0 scale
Course Completion

Completion of prerequisite courses in the degree plan
Listed courses must be completed by the entering Fall semester (unless with completion of program director)

Interview

Interviews are scheduled for students who meet the initial program requirements.
Candidates will be notified by email regarding scheduled interview times and locations.

Other Requirements

Students must be in good standing, both academically and non-academically.

Program/ Internship Requirements

Students must have a social security number at the time of admission.
Students are responsible for all associated fees.
Possible vaccination requirements.

Incomplete Application
Incomplete applications will not be considered.
EH Curriculum  (PDF)