Professional Program in Health Information Management
Program Mission
The Health Information Management Program provides graduates with the technical and administrative skills to manage health information systems consistent with professional standards (medical, administrative, ethical, and legal) in health care delivery systems. Graduates also possess the knowledge and skills needed to plan and develop health information systems which meet standards of accrediting and regulating agencies.
Admission Requirement
To apply, CLICK HERE.
Requirement
Application
Accepted:

February 15 to April 9

Application Fee
$85.00 PAY HERE
Two (2) Letters of Recommendation

Suggested from two of the following:

Faculty
Employment Supervisor
Supervisor of Volunteer Activities

GPA
2.5 on a 4.0 scale
Course Completion

Completion of prerequisite courses in degree plan
Listed courses must be completed by the entering Fall semester (Page 2 of the degree plan shows approved substitute courses)

Interview

Interviews are scheduled for students who meet the initial program requirements.
Candidates will be notified by email regarding scheduled interview times and locations.

Other Requirements

Students must be in good standing, both academically and non-academically.
Students must complete a pre-assessment, which includes a writing sample.

Program/ Internship Requirements

Students must have a social security number at the time of admission.
Students must pass a background check and drug screening, as well as being subject to random background and/or drug screening tests.
Students are responsible for all associated fees.
Possible vaccination requirements.

Incomplete Application
Incomplete applications will not be considered.
HIM Program Outcomes 2022
The HIM Job Placement Rate for 2022 Graduates is 100%.
The HIM Graduate Satisfaction Rate for 2022 Graduates is 100%.
HIM 2022 Graduates attending Graduate School is 85%.
Program Accreditation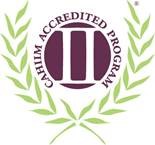 The Bachelor of Science program in Health Information Management at Texas Southern University is accredited by The Commission on Accreditation for Health Informatics and Information Management Education (CAHIIM), 233 N. Michigan Ave, 21st Floor, Chicago, IL 60601-5800.
Advanced Standing
Advanced standing within the Health Sciences is the administrative placement of a student in a specific health program based on program requirements and the applicant's completion of previous credits. Program applicants who qualify for advanced standing receive an administratively approved, individually prepared degree plan that recognizes previously earned college credits and professional credentials.
HIM Curriculum(PDF)