Community Engagement Core
OVERVIEW
OPPORTUNITY | TARGET POPULATION | STRATEGY
THE WHO
The Greater Houston Community (GHC) consists of 9 counties and one of the most ethnically diverse metropolitan regions in the U.S.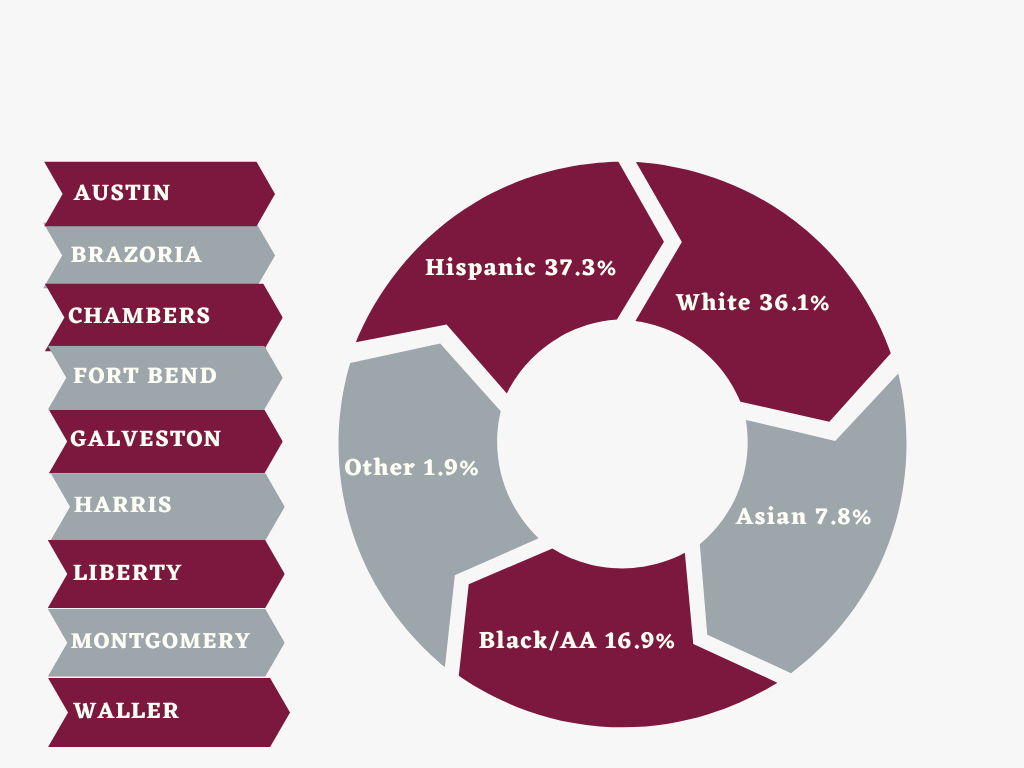 THE PROBLEM
Underrepresented ethnic minorities (URMs) are more likely than other groups to struggle with diabetes, hypertension (high blood pressure), cancer, obesity, dyslipidemia (high cholesterol), and more recently COVID-19 leading to more complications and even death. Clinical trials are important opportunities to advance treatment options for diseases that disproportionately impact ethnic minorities. Barriers to clinical trial s participation include:
Mistrust
Little/no access to information about clinical trials/research
Health insurance status (uninsured/underinsured)
Legal status,
Language/cultural barriers
Without clinical trial involvement, treatment decisions will remain a healthcare challenge. Increased participation and diverse representation are is key to closing the health disparity gap s.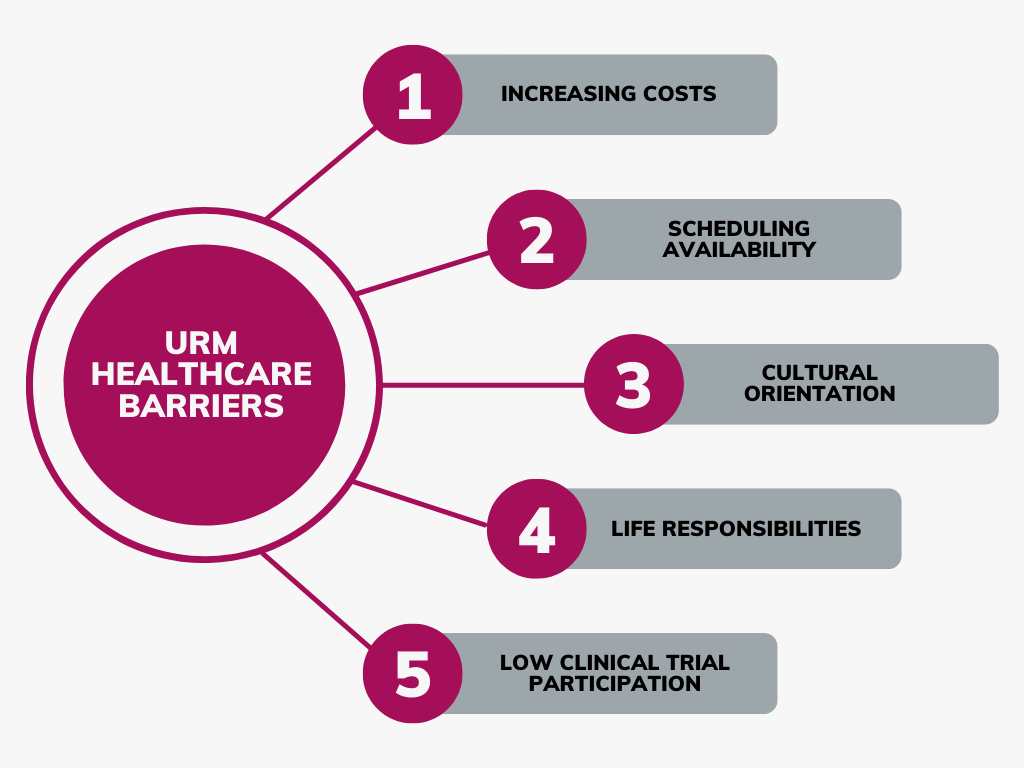 THE SOLUTION
To effectively address the problem, the Community Engagement Core (CEC) of Texas Southern University's Center for Biomedical and Minority Health Research (CBMHR) partners with faith and community-based organizations (FBO/CBO), Texas Medical Center healthcare institutions, and Federally Qualified Health Centers (FQHCs) to strengthen our collective capacity to provide the GHC with QUALITY INFORMATION, INCREASED HEALTH AND CLINICAL TRIAL ACCESS, and  COMMUNITY RESOURCES that can improve one's overall quality of life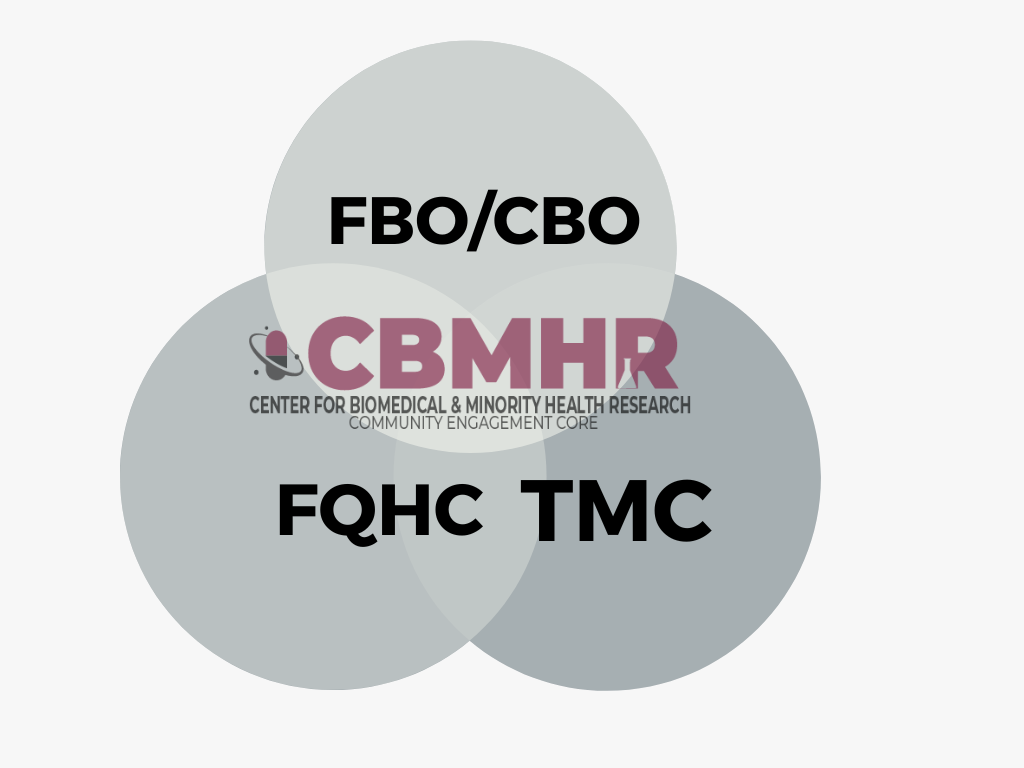 ---
OVERALL GOAL
RAISE GREATER AWARENESS OF DISPARATE HEALTH CONDITIONS & NEEDS
INCREASE ETHNIC MINORITY CLINICAL TRIAL PARTICIPATION
BE A REPUTABLE COMMUNITY RESOURCE OF CHOICE
OUR PLAN
LISTEN
Host a series of targeted focus groups on health-related treatment, prevention, and/or social support options
Provide community members with surveys to share their thoughts, opinions, and preferences
Create feedback opportunities for FBOs/CBOs and FQHCs to share their efforts and partner networks
ENGAGE
Establish
Conduct quality education seminars about top health-related concerns led by experts and health educators
Implement the Annual Clinical Research Engagement Conference (CREC)
Develop and deliver culturally appropriate continuing education training opportunities for community members and professionals
SUPPORT
Maintain consistent visibility through community outreach
Provide access to community resources i.e ., financial assistance programs, telemedicine technology, and health care resources
Share credible research and data the GHC community can trust about health disparities, interventions, and clinical trial updates
Be sure to follow us (would recommend putting this in a tile format if at all possible or maybe use the icons).
TSU Community Impact Magazine
Annual conferences
Facebook, Twitter, and Instagram handles: @CECTxSouthernU
KTSU, FM 90.9, National Public Radio and FM 88.7
TV broadcasts (TV8 and PBS)
Community outreach events
Center for Biomedical and Minority Health Research (CBMHR)
Community Engagement Core
3100 Cleburne Street
Houston, Texas 77004
713-313-1968 | cbmhrcommunity@tsu.edu