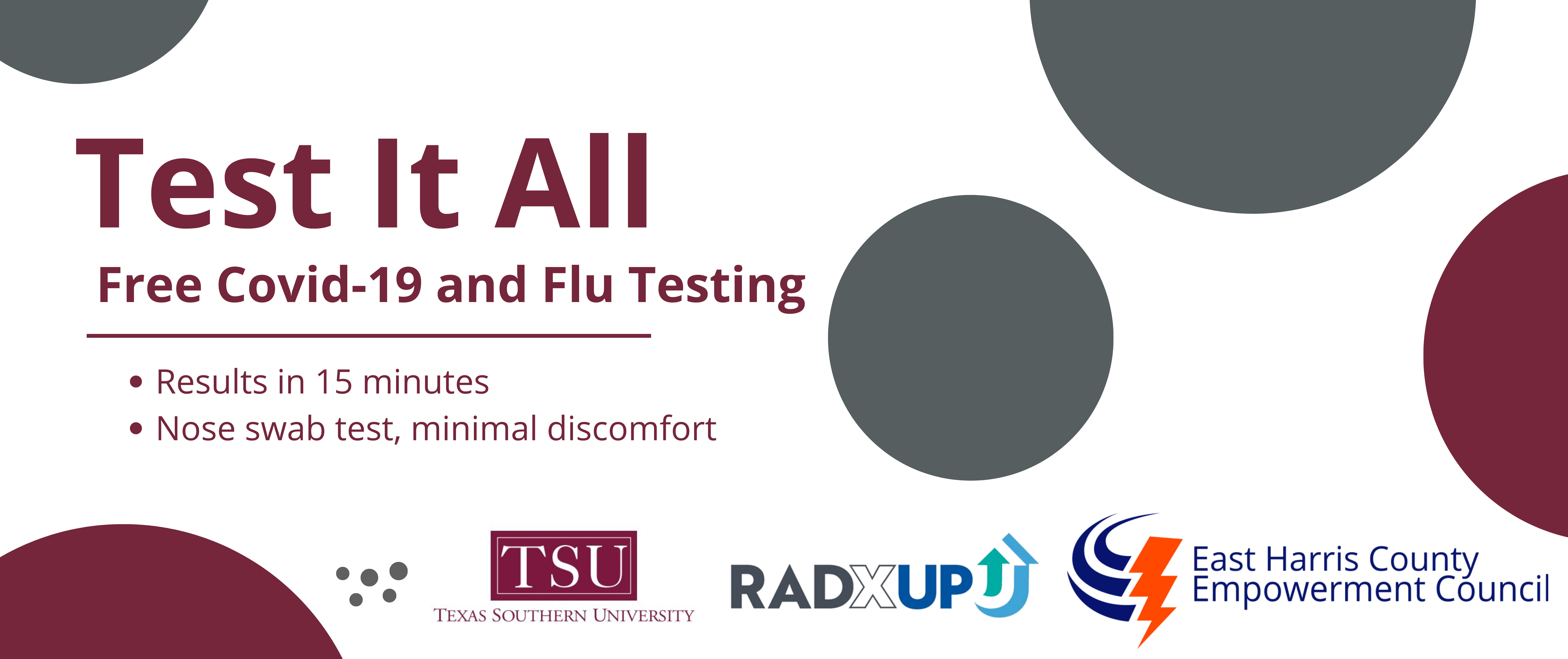 Test It All RADxUp Pilot Project
"Test-It-All: Developing a Community-driven, COVID-19 and Flu Combined Testing Strategy in Underserved Minority Communities" is a research project funded by NIH/RADx-UP. This project will measure the acceptance of combined testing for COVID-19 and flu by underserved and minority communities in East Harris County in Houston. This project aims to increase the awareness, access, and adoption of the testing algorithm for COVID/flu-like symptoms for potential adoption in community-based organizations and health clinics. The Test-it-All pilot project will be focused on East Harris County, which is home to several neighborhoods with fewer COVID-19 resources, such as Channelview, Crosby, Galena Park, and Jacinto City.
The Test-It-All project will provide FREE Covid-19/Flu combo testing and at-home antigen testing kits in various locations across East Harris County. Participants who present with no flu/COVID-19 s like symptoms will receive an at-home testing kit and will participate in weekly surveillance for eight weeks. Residents with symptoms will receive the covid-19/flu combo test. Confirmatory PCR testing will be performed for participants who tested positive for either disease. To participate, a resident must be 18 or older and reside in East Harris County. All participants will be compensated for their time.
The Test-it-All project has partnered with local community agencies, such as EHCEC (East Harris County Empowerment Council) and Harris County Precinct 2, to establish connections with the community members. A few community members have joined the research as a community steering group to help with community engagement, be a voice for residents, and help aid in the project's effective strategies.
Please follow us on social media or contact us for more information about the project.
Contact