We encourage our students to make a concerted effort in planning for their careers by utilizing the model below: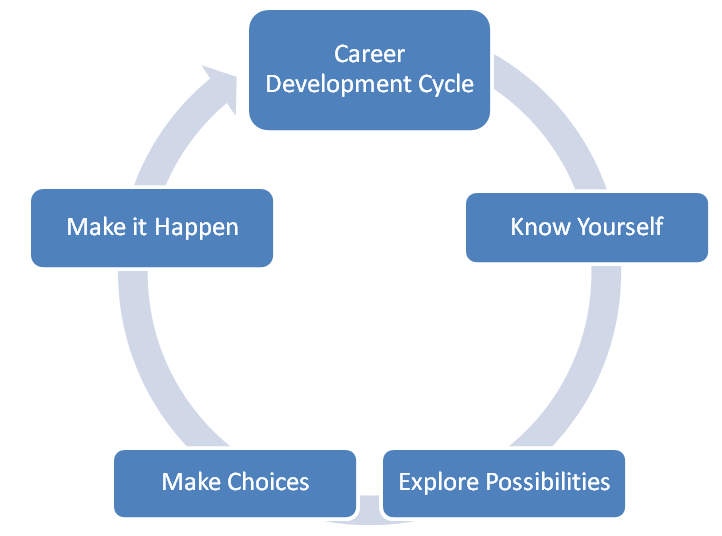 Résumé/Career Counseling
The Career Center provides résumé counseling as well as career counseling.  An effective and competitive résumé is vital to obtaining meaningful employment.  In addition, students are not aware of the different career paths within their disciplines.  The center advises students on career options and assists them with effectively competing with other graduates within their field.
Skill/Career Assessments
The Career Planning and Placement Center offers skill/career assessments utilizing the Self-Assessment Library and Skills Identification programs.   By utilizing these assessments, students are able to identify their strengths and what occupation would best fit these strengths.
Developmental Workshops/Seminars
The Career Planning & Placement Center offers an array of seminars to assist students in preparing them for the workplace. Development workshops/seminars are offered in the following areas:  Résumé Cover/Letter Writing; Professional Attire; Interviewing; Dining Etiquette; Business Etiquette; Job Search Strategies; Professional Image; Branding Yourself; Business Ethics; Dining Etiquette; and Networking. 
Programs/Events
The Career Planning and Placement Center offers an array of programs/events to keep our students abreast of the marketplace.  Events include Corporate Information Sessions, Career Fairs, On-campus Interviews, Alumni/BEEP Programs, and the Internship Program.
Internship Program
Our main focus is to provide "on-going" internship opportunities with corporations that will provide the work experience necessary to ensure success. Whether paid or unpaid, we look to provide our students with internships that will prepare them to be leaders and entrepreneurs of the future. In addition, we offer an Internship course to provide professional development and assist students needing academic credit for internship placement.
Full-time Employment
We offer access to on-campus interviews and several job databases for full-time employment. Local companies visit the campus to inform students of opportunities within an array of industries.
Partial list of participating companies for internships:
Accenture
Aerotek
Almeda Travel
BP Oil
CAMAC
City of Sugar Land
Enterprise Rent-A-Car
Ernest & Young
FDIC
HEB
Houston Area Urban League
HISD
Merrill Lynch
NASA
Northwestern Mutual
PAM Media Consultants
Port of Houston Authority
SEO (Student Education Opportunity)
Sysco
The Breakfast Klub
UHY Advisors
Walgreens
Wal-Mart
Wells Fargo