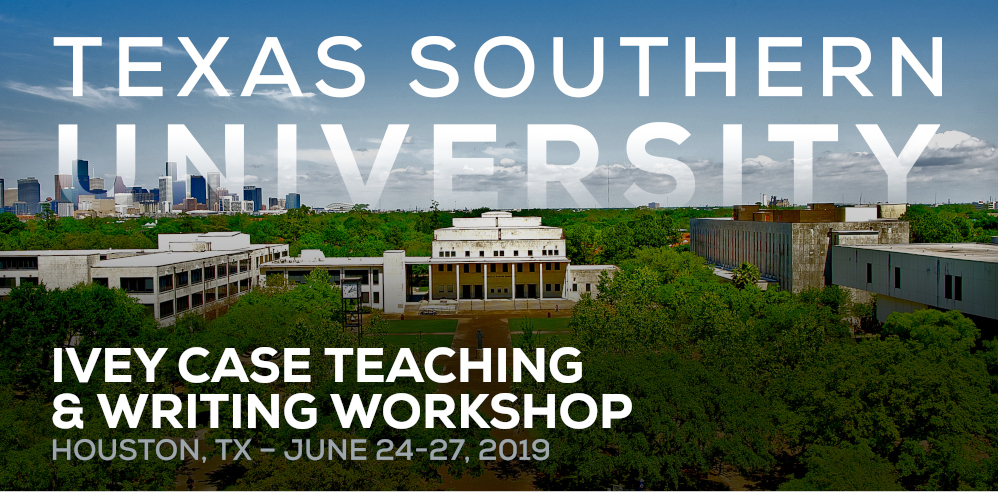 Texas Southern University's Jesse H. Jones School of Business is partnering with a leading provider of business case method training – Ivey Business School – for a four-day case teaching and writing workshop. The event will be held June 24-27, 2019, on the TSU campus in the Gerald B. Smith Center for Entrepreneurship & Executive Development. TSU faculty in the School of Business will participate in the training, and other interested faculty from area universities are also invited to attend, though space is limited. The cost of the workshop is $1,995, including refreshments and lunches throughout the program.
Participants will discuss case teaching during the first day of the workshop, followed by intensive and focused case writing on the final three days. Each day will run from 9 a.m.-4 p.m. Dr. Roderick White, professor emeritus of general management and strategy at Ivey Business School, will conduct the workshop.
"Bringing Ivey Publishing case teaching and writing workshops to TSU gives faculty an incredibly valuable professional development opportunity," said Dr. Claudius Claiborne, interim dean of the School of Business. "Case method training is an important component within the curriculum of our degree programs. In the end, it is our students who will benefit from this training."
Case teaching and writing workshops explore real-life business scenarios, and TSU has partnered with several local businesses, including A Rocket Moving & Storage, Ortega, and Shipley Do-Nuts, to give the workshops a distinct Houston flavor. Participants will interview key leaders of these businesses to develop their cases.
"The cases to be explored will mean that much more, given that they are local and more relatable to the participants," added Dr. Claiborne.
Ivey Case Writing Workshop Presenter - Professor Emeritus Rod White Ivey Business School, Canada
Rod White recently retired from fulltime work after 39 years with the Ivey Business School, Western University.  During that time Rod served as Faculty Director of the HBA (undergraduate) and PhD Programs; as well as Associate Dean (Faculty Development and Research). He continues to hold an adjunct appointment at Ivey and pursue his research and case interests.
Rod earned his undergraduate (HBA) degree from Western University, and his doctoral and MBA degrees from the Harvard Business School.  Rod has written and co-written over 100 cases. His research has appeared in Harvard Business Review, The Strategic Management Journal, Organizational Dynamics, Academy of Management Review, Organizational Behavior and Human Decision Processes, and other leading journals and conference proceedings.
Rod lives in London, Ontario with his wife Sharon. Since retiring he has more time to pursue curling and golf, along with the more recent addition of lawn bowling. 
workshop

Case Teaching and Writing Workshop (CTWW) Outline

Day 1

Introductions
The case class learning experience
How instructors prepare for a case class

Day 2

How to begin the case writing process and case development
Team breakout
Travel to Case Site and Conduct Initial Interviews

Day 3

Develop and present an effective Executive Summary
Complete Case Plan

Day 4

Classroom Management
Case Teaching And Writing Best Practices
Case Plan Feedback