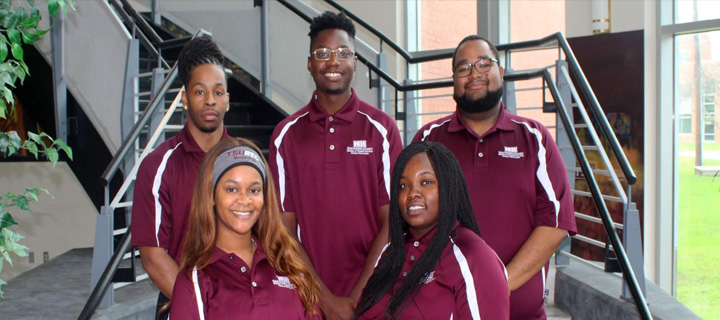 Guest Passes
Guest passes can be purchased to access the facility. Each guest that enters the Student Recreation Center must have a current member with them to be their sponsor for the day. Daily guest fees are $10 for patrons 16+ years old. All guests must fill out a liability waiver before access is allowed. All guests are allowed (2) passes before a membership is required to purchase.
Pool Only Membership
TSU Recreation Services will begin offering Pool Only memberships for those who are only interested in utilizing our Aquatics area and programs. Memberships will be open to Faculty/Staff, Alumni, Community, and senior members, priced per semester or annual rate. Members will receive a Pool Only specific membership card that they will be required to bring in order to gain access to the Aquatics Area.
Please be advised that with this membership all other program areas will be off limits and to receive access a full membership must be purchased. All facility rules still apply.
For a complete price listing and guidelines please click here
Locker Rentals
Half ($18) and full size ($28) lockers with assigned lock and key lockers are available for rent to members only. The rental terms are as follows:
| | |
| --- | --- |
| Fall Semester | August 15th to December 15th |
| Spring Semester | January 4th to May 20th |
| Summer Semester | June 1st to August 6th |
Unless the locker is renewed by the end of the date, items must be removed by the end of each semester. Failure to remove items will result in removal of contents by the TSU Recreation staff.
Contents that have been removed from an expired locker will be stored for 30 days, after which if unclaimed by the owner, will be discarded. The Recreation and Wellness Center will not be liable for these items after the one-month time period. Participants should not leave items in a locker without securing it. TSU Recreation and Wellness is not liable for lost, damaged, or stolen items left unattended in the facility or in lockers.
For current pricing please contact the Member Services Department at 713-313-1845
Pro Shop
Campus Rec offers a variety of sports equipment and accessories for sale located within the first-floor lobby
We accept cash, check, credit card, or TSU Tiger Bucks.
Our offerings may change regularly and are limited to what we have in stock.
Guided Tours
Guided tours are available upon request. And is led by a Campus Recreation Staff member.
Campus sponsored guided tours are allowed to showcase Campus Rec facilities by giving tours. All guides must sign in at the information desk.
Campus Rec. Media
Photography & Filming
If you are interested in photographing or filming in any of our facilities, please email Jessica AllenM.
Posting Fliers
We offer a public posting display area. To have your poster/flier included, you may submit one (1)  copy with the approval stamp from the office of event services to the Coordinator of Memberships and Promotions, Jessica Allen. Please note that not all requests are approved.
Campus Rec TV (CRTV)
Campus Rec has two (2) digital screens in the Rec Center. Registered Student Organizations and campus departments may request slides to be displayed on the screens. Please note that not all requests are approved.
please email Jessica Allen for questions or requests.