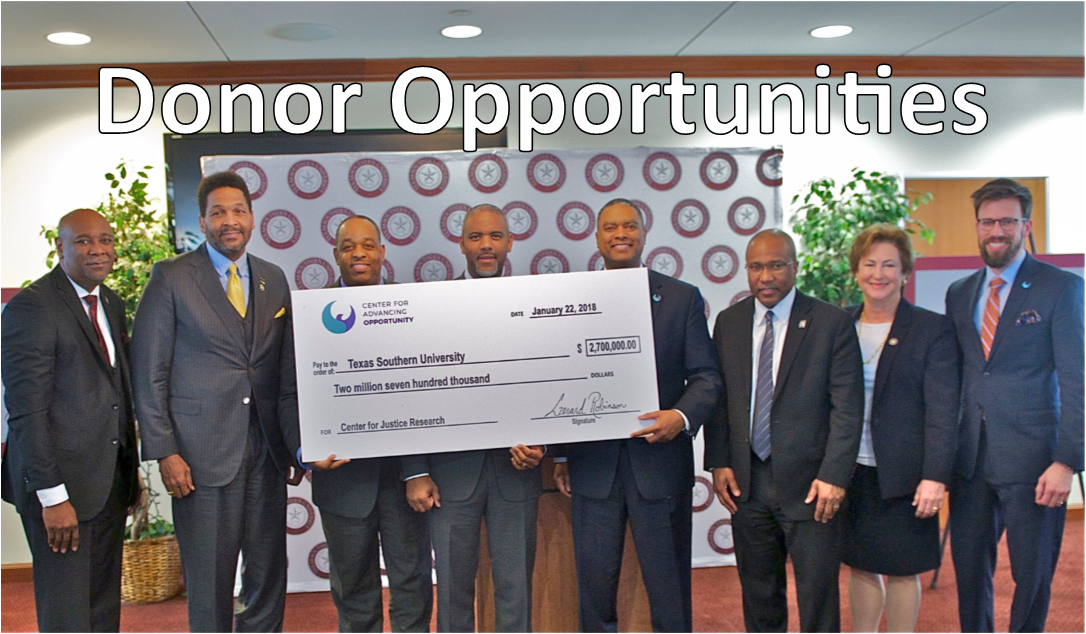 All of us at Texas Southern University appreciate the generosity of our friends and alumni. This year's Annual Fund is supporting university scholarships for deserving students. All gifts are tax-deductible and used according to your wishes. You may give a restricted gift to support scholarships for a specific college or school; or you may give an unrestricted gift that will be used for the greatest need of the university.
Restricted Gifts:
PRESIDENT'S LEADERSHIP SCHOLARS: This program involves private philanthropy plus university matching money to create competitive scholarships to award top students. The donor pledges a $10,000 commitment to be paid over a 4-year period ($2,500 annually) and TSU will match $2,500 each year for a total scholarship of $5,000 per year. You will be matched with a specific student and support that student for four years, as long as the student remains eligible for the award. You have the opportunity to name your scholarship after yourself, or in honor or memory of a loved one.
TSU Excellence Fund: TSU is committed to providing quality, affordable education to our students. Scholarships are merit based and help deserving students achieve their goals.
FUND SCHOLARSHIPS FOR A SPECIFIC COLLEGE/SCHOOL: There are ten different colleges and schools on the TSU campus and each awards scholarships to exemplary students. You may designate your gift towards a specific college or school.
ATHLETIC SCHOLARSHIPS: Your gift will support the Athletics department and provide scholarships for student athletes. You may specify a scholarship within a specific program or area (i.e. Football, Men';s or Women's Basketball, etc.) to benefit from your gift.
ALUMNI RELATIONS PROGRAMMING: Designate gifts to support programs and events that give TSU alumni an opportunity to interact with students and each other, such as freshman orientation, career networking events, homecoming activities, senior luncheons and more.
MURAL PRESERVATION: Designate gifts to support the project dedicated to the restoration and preservation of the historic murals painted in various buildings throughout the University.
TSU Endowments can be established by individuals, entity or group. The funds are given to colleges and other organizations as a permanent fund to generate incomes for long term support and student scholarships.