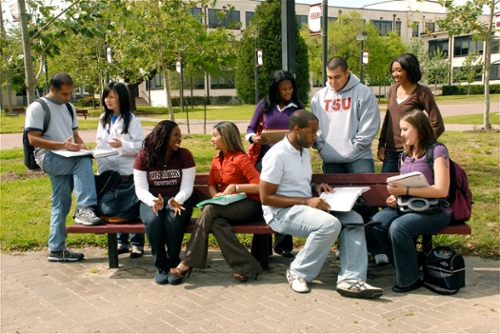 English Department's Tutoring in MTM Tiger Writing Lab

In MLK 252, you will find an open computer lab. We provide tutorial services and a variety of online resources and information on writing basics across the curriculum. The Tiger Lab provides a collaborative, collegial learning environment with helpful materials as well as one-on-one 15-minute tutorial sessions to students, classroom, and groups alike.
The lab is primarily designed for students enrolled in English courses but is open to all currently enrolled students.
Tiger Writing Lab Guidelines

Sign-in with Name/TSU ID.
Be a

 

currently enrolled student.
Students may drop in at any time to see a Professor/Tutor. Students can come to the Writing Lab for a 15-minute tutorial session(s) up to 3 times each week, but not more than once a day.
Tutors  will not correct or edit assignments, but they may give advice on content and form.
Students must bring a copy of the assignment or essay prompt and a hardcopy (typed) of the paper.
Professors/Tutors will not review mid-terms, essay exams or final exams assignments.
Students must not expect tutorial sessions to begin within 15 minutes of closing.
English Instructors /Tutors will offer suggestions for improving the content of the paper structure based on MLA guidelines and/or their expertise.
Hours of Lab/Tutoring

time frame open

| | | |
| --- | --- | --- |
| Monday through Friday | Open | 9:00 a.m. - 5:00 p.m. |
| Lunch Hour | Closed | 12:00 p.m. – 1:00 p.m. |
Note: These helpful links have been consolidated to provide you with assistance in your writing. Credit for sources have been provided.